The leadership daily briefing is typically requested by the Head of Operations (HeOps). It is usually delivered in a presentation or dashboard format by the Humanitarian Info Analysis Coordinator (HIAC) or Information Management Coordinator, depending on the profiles deployed for the operation. The purpose of the daily briefing should be to help leadership and surge delegates make planning/programming decisions, anticipate changes in approach/programming, and stay informed by providing frequent, high level and relevant data on the evolving situation.
The SIMS Remote Coordinator may be asked to support development of or update the daily briefing in several ways:
Collect secondary data on the situation/humanitarian context to inform the daily briefing product(s)
Assist in scenario building or scenario monitoring

Resources: A description of scenario building in a response context and examples can be found in the SIMS Portal here.

If a SIMS member is trained on DEEP (the Data Entry and Exploration Platform), they may be asked to set up a DEEP project for the response and/or help pull frequent reports to inform the daily briefing product(s).
Design or update the daily briefing presentation

Resources: Templates and examples of daily briefing slides are linked below. Generally, the briefings should last only 10 – 15 minutes and focus on situational updates that are relevant for the leadership team (i.e. provide information on areas aligned with response operations or in which will be useful for planning purposes).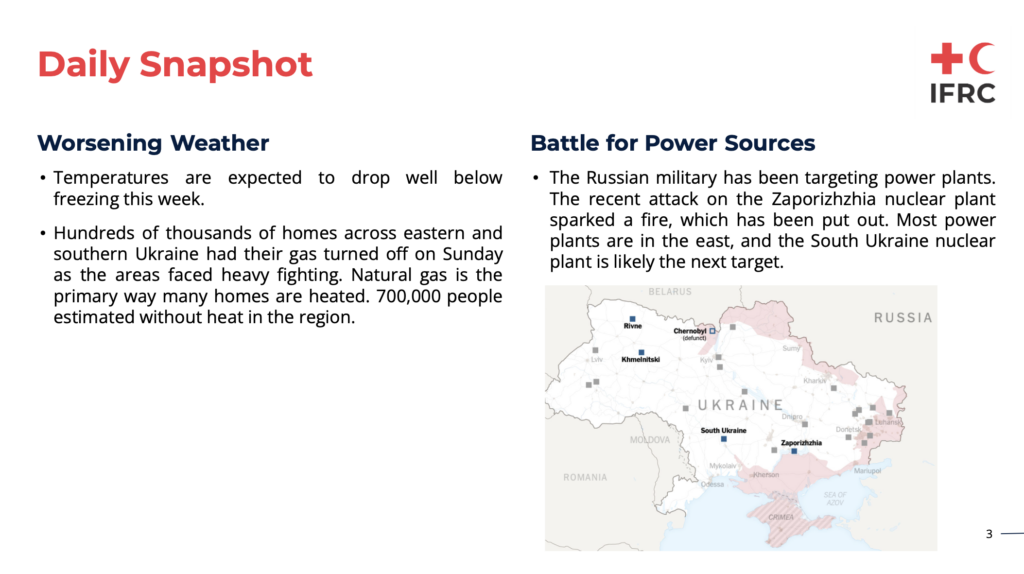 Collect and monitor media/news sources for key situational developments and feed updates or resources to the HIAC

At the start of an operation when there is lots of information coming from many sources, the leadership team may request daily briefings. As the weeks go by, the daily briefings may transition to bi-weekly or weekly. The leadership team will inform you of how often they would like to receive briefings.
Operational Leadership Daily Briefing Example: Ukraine and Impacted Countries Crisis
Operational Leadership Daily Briefing Example: Turkiye Earthquake